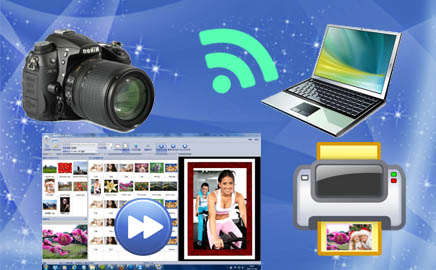 Auto Instant Photo Print(AIPP) is a windows app that monitors a folder for images and prints all of your event photos on the specified printing using the specified paper/print size instantly and automatically.It doesn't matter what orientation (Portrait or Landscape) the photo is shot in. AIPP will automatically rotate and print the image at the proper orientation and auto crop to fit the specified paper/print size. Frame/Png Logo/Text can be preset for every image.What is more,this app supports multiple printers work collaboratively for the selected hot folder.
How it works:
1. Select image folder to monitor.

2. Select printer(s) to use.And set the printer's properties such as print quality,media type,paper size.If multiple printers added,each printer's paper size should be the same.

3. Select number of copies to print of photo.

4. Preset Frame/Png Logo/Text,if need.

5. Click "Run" button to start pringting task.

6. Click "Stop" button to stop printing task.
Once processing is started a photo will automatically be printed for each image found in the selected folder. As new images show up they will be automatically printed. Image files printed will be removed from the image pool window and listed in the printed image pool window.And each image will be marked the copy number that is printed.
Once all images in the folder have been printed, AIPP will continue to monitor the folder for new images arriving until this programme exits. This allows the photographer to continue to take pictures and have them automatically printed out as they arrive in the monitored folder.
Auto Instant Photo Print(AIPP) can GET images from the selected folder with any of the following methods:  wirelessly transmitted images to a folder(using devices such as eye-fi or wi-Pics)  camera tethered to computer using camera's "capture" software  or simply copy images from camera's memory card to a folder on computer 
Platforms Supported: Win7,.Win 8,Win 10
System requirements: 1 GB RAM.24bit or higher color display resolution at least 1024 x768